What to Look for When Shopping for a Laboratory Glassware Washer (video)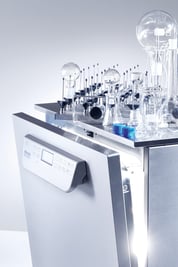 Flex Series Undercounter Glassware Washers

More Capacity | Greater Flexibility | Improved Efficiency
Explore the many benefits of the most advanced glassware reprocessing system on the market. Learn about the power of the pump and how variable-speed can help you save water and energy. See for yourself how easily basket configurations can be customized.
To further explore our new Flex Series Undercounter Glassware Washers, view our brochure.

Or visit us on YouTube:
Flex Series Undercounter Laboratory Glassware Washers
Flex Series Glassware Washer Accessories
For more information please contact us at proinfo@mieleusa.com.